White Belt Handbook
August 2018
We have always been good at writing things down in New Zealand – with the early edition techniques handbooks typed, photocopied and distributed to clubs back in the early 80s. Although basic in comparison to what we have now, they served as an important way to distribute and instigate a national syllabus, something that we have been able to maintain until this day.
This continued over the years, most recently with the introduction of the Self Defence Handbook in 2014. This 70 page full colour manual was a real step up, and covers all the theory of self protection as well as a comprehensive guide to the physical requirements of the syllabus.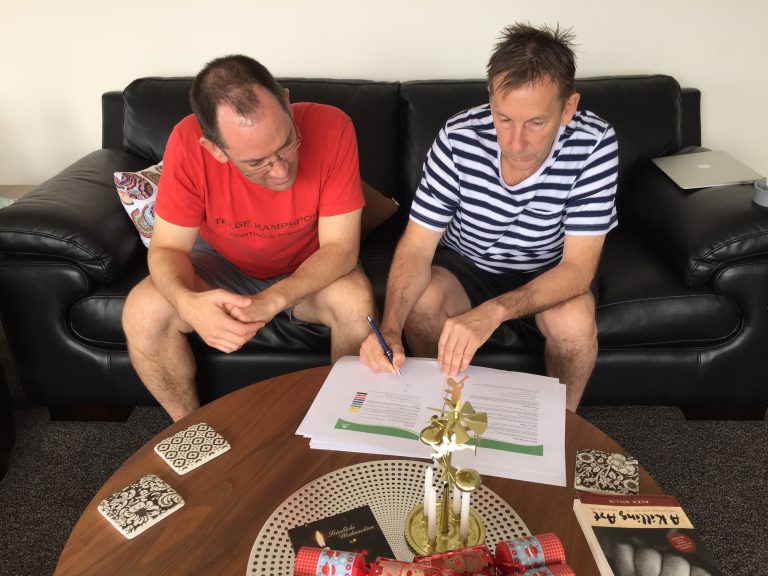 The co-authors for most of these handbooks have been Master Paul McPhail (8th dan) and Mr Mark Banicevich (6th dan). If you have ever written a book of any kind, you now how much work it is. For them the process normally begins with a few rough drafts covering the basics of the syllabus. Master McPhail and Mr Banicevich can knock out a good volume of work together (often on a plane), then head their separate ways with our specific jobs to do. Once the skeleton draft is in digital form then they are ready for a preliminary photoshoot. This is for positioning purposes, and to refine and finalise the layout for the book. They then take special care over the final photoshoot – which for this handbook was carried out on Saturday 19th August 2017.
For the photoshoot Master McPhail invited four very special TKD exponents to model for the book. They are:
Miss Roisin Giles, 2nd dan, patterns multi world champion and current NZ Team member
Miss Paige Moki, 1st dan, former NZ team member and world champs medalist
Miss Courtney Church, 1st dan, former NZ team member and world champs medalist
Mr Matt Chan, 1st dan, Special Techniques Junior world champ and former NZ team member
Also thanks to our photographers Rob Harradine, Ryan van Heerden and Adam Firth.
The new White Belt Handbook will be issued to beginners in all clubs as they join, and will replace the current handbook they receive. The new handbook contains photos and information from how to bow, how to tie your belt , and even to how to hold a pad. It will show all the techniques required from white to yellow belt, the grading syllabus, and all the important information associated with each technique.
Once completed, work will start on the new Yellow Belt handbook – so over the course of several years we will have a comprehensive resource for all belt levels.