Older News


Our Brand - Taking Us Forward
When we first met the last thing in our minds was the desire, or want, to change our name from ITFNZ. We had the advantage of having over 25 years of preceding history to work with, preserve and take forward and so we started with the great things we already knew existed in ITFNZ; our vision, our mission and the fundamental tenets from which we derive our art.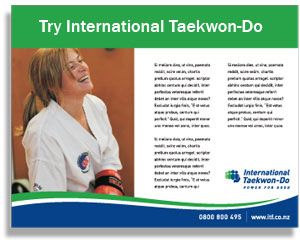 Then it was time to review ITFNZ's position; who we were, what we offer to New Zealanders, what our members want and from there determine what kind of initiatives to put in place, for the future development of our art. It was then that we consulted and surveyed both our membership and those who have no connection with Taekwon-Do, along with our strategic partners – SPARC, other sporting bodies,local government,sponsors and independent fund providers.
The key message that we identified was, that to take advantage of our a desire to grow, we need to increase branding and brand awareness and this needed to focus on our core values, combined with a portrayal of fun, family and fitness.
Only after the board had analysed and discussed this, did we suspect that rebranding was an option to be considered. Strategic Consultants, Patillo Consulting and Network PR helped us with strategic planning to outline options working from the following:
The need to differentiate ITFNZ
Our existing strengths
Our survey results
Our developing strategy
An analysis of where we stood in the Marketplace:
Together we created the brand story, developed the ideas into a consultation paper and went on the road around New Zealand seeking members' thoughts. The issues and points raised were then refined and in September 2009 we issued a consultation paper in which the board sought written submissions. Vigorous forum debate ensued and over thirty formal submissions were received; a great response that enabled the board to reach a decision.
Following further work with logo and brand designer Dave Sauvage, in conjunction with Master McPhail, we come to July 2010 and the launch of:

This brand not only identifies us, it differentiates us, and I am personally looking forward to sewing the new logo onto my dobok knowing that underlying it is the vision, mission and tenets that have held us in very good stead to date, and will just as importantly carry us into the future.
Dennis Burns
Board Chairman

Meaning of our Logo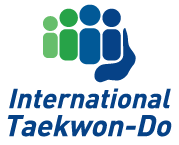 Our logo is both distinctive and memorable. The symbol of the fist – a Taekwon-Do punch, is made up of individual figures. Each of the figures is also a lower case "i", referencing the first letter of "International".
The symbol represents: a fist, community, family, making friends, having fun, a constructive team environment, contributing to society, working together towards a common goal.
As well as the two middle grade belt colours, the clean greens and blues reflects the colours of New Zealand and also relate to the colours of the planet, symbolising the building of international relationships.
Designed by...
The logo


We are very proud of the fact that our original ITFNZ logo and our new International Taekwon-Do logo were designed by the same person – Mr Dave Sauvage.
Dave has over 18 years of design experience and is a professional member of the Designers Institute of New Zealand (DINZ). He is a 3rd degree black belt.
---
The Web

Our current website has had a great reputation for many years, so we knew any updated design had to be something really great.We went back to the man who designed our current site over six years ago – Mr Mike Peetz.
Mike trained under Evan Davidson and Paul McPhail in the 80s and gained his 1st degree black belt. He is now married with three kids & a cat and currently resides on Auckland's North shore where he works full time as a multimedia designer.
Structure: Paul McPhail, Terry Harkin and Mark Banicevich. Website creation, templates and content: Mike Peetz. Content: Paul McPhail, assisted by Brett Kraiger, Angela Dunn and Mark Hanna. Scripting and database integration: Neil Breen.
---