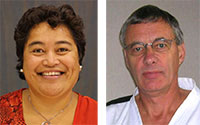 Lena Walton    Master Evan Davidson
The Advisory Panel have another announcement regarding our Advisor groups. Mrs
Lena Walton
will be stepping down as Standards & Discipline Advisor and Master
Evan Davidson
will take over this role.
Master Davison was previously our S&D Director but in recent years has been concentrating on his international position as Chairman of the ITF Ethics Committee. Master Davidson is also a former Policeman and of course former President of ITFNZ - so perfectly qualified for the job.
Mrs Walton took on the role of the Wellington RD in 1997 as the Wellington S&D Representative. She continued to hold that position for 23 years.
During that time she held other leadership roles within the Organisation: High Performance Advisor and was on the Organising Committee for the 2010 Oceanias and 2011 World Championships. She held the S&D Advisor role since June 2013.
Being one of the seniors in Wellington, she actively took lead roles where she made a positive difference. Mrs Walton says she found each committee role challenging, but we appreciated how she took on each situation with professionalism and with a level headed approach.
In January 2021, Mrs Walton will be stepping down from being the S&D Advisor and S&D Representative for Wellington. She will continue as co-Instructor of Berhampore Club

Our sincere thanks to Mrs Walton for all her work throughout the years, some of which were particularly challenging as the S&D Director. Mrs Walton led by example, and made very real contributions to our art and organisation. Thanks Mrs Walton!


---